Dyspareunia Treatment Market Poised for 4.1% CAGR Surge, Touches USD 1.02 Billion by 2031 | Transparency Market Research
Growing demand for minimally invasive treatments and ongoing research activities will drive dyspareunia treatment sales. New therapies and drug developments are expected to drive dyspareunia treatment demand.
/EIN News/ -- Wilmington, Delaware, United States, May 29, 2023 (GLOBE NEWSWIRE) -- The dyspareunia treatment market generated US$ 689 million in 2022. Globally, the market is expected to reach US$ 1.02 billion by 2031. Between 2022 and 2031, the dyspareunia treatment market is predicted to grow at a CAGR of 4.1%.

Women often experience dyspareunia during their premenopausal and menopausal cycles. The psychological and emotional factors responsible for a low level of sexual arousal and physical discomfort may also be the cause of these symptoms.
Request a Report Sample to Gain Comprehensive Insights @ https://www.transparencymarketresearch.com/sample/sample.php?flag=S&rep_id=85106
Pain associated with dyspareunia, and genital pain related to sexual interaction, can be relieved with pelvic floor physical therapy. Manual therapy is a type of physical therapy used to mobilize soft tissues, relieve pain, and improve function. A low estrogen level contributes to dyspareunia among postmenopausal women. A topical estrogen solution is often applied directly to the vaginal area to treat this condition.
Dyspareunia can be improved by utilizing new technologies like telemedicine and remote monitoring, as these technologies can be used to increase accessibility to treatment and increase the quality of treatment that is provided to patients with this condition. For instance, the FDA has approved A drug called ospemifene (Osphena) for treating women with moderate to severe dyspareunia. PFPT or pelvic floor muscle training is one of the first-line conservative treatments for many pelvic floor problems. Training the pelvic muscles, relaxing them, and coordinating them through PFPT is the practice of pelvic physical therapy.
Key Findings of Market Report
Oral administration of drugs is the most popular route of administration, depending upon the drug.
Retail pharmacies have grown in size and the cost of drugs has become more affordable, leading to an increase in demand in coming years.
Due to its minimally invasive nature, ease of drug delivery, and adherence to patient needs, this option is popular among patient and dyspareunia market manufacturers.
Developing new technologies and improving access to care will create market opportunities in the coming years.
Researchers and government programs are going to push the market for these treatments in the next few years.

Get Customization on this Report for Specific Research Solutions at https://www.transparencymarketresearch.com/sample/sample.php?flag=CR&rep_id=85106
Global Dyspareunia Treatment: Growth Drivers
Medical facilities are expected to grow dramatically as awareness of treatment options increases and physicians put more emphasis on sexual health. As these centers employ a greater number of counselors and sexologists, pre-existing and new treatment procedures will be carried out at these centers due to the demand for treatment procedures.
The increasing number of minimally invasive surgeries provided by hospitals may contribute to the growth of their ability to generate revenue in the future. As ayurvedic treatments and home remedies gain traction, dyspareunia treatment demand is expected to increase.
New market opportunities for dyspareunia treatment are likely to arise as an increasing number of natural remedies and new treatments are developed, such as medications, physical therapy, and psychological therapies. In order to open up new opportunities in the market for dyspareunia treatment, the industry needs to put a great deal of focus on research and the development of new treatments.
The availability of treatment options for dyspareunia patients can increase demand for them. Insurance coverage could be expanded, access to specialists could be improved, and financial assistance could be provided. Increasing awareness and demand for treatments for dyspareunia by educating healthcare professionals and the general public is expected to grow the market.
Global Dyspareunia Treatment: Regional Landscape
Women in the Asia Pacific are likely to become more aware of dyspareunia treatment as awareness about treatment for the disease increases.
Increasing medical tourism, enhanced healthcare infrastructure, and growing disposable incomes in developing countries have all contributed to this phenomenon.
The United Kingdom reports that 7.5% of women suffer from dyspareunia.
Drug development by key pharmaceutical companies will ensure North America's dominance in dyspareunia treatment in the market.
Rising awareness about available treatment options for sexual dysfunction has led to an increase in cases of the disorder in the United States.

Global Dyspareunia Treatment Market: Key Players
Several major players control the majority of the market share, leading to a consolidated market. Creating environmentally friendly products requires a lot of research and development (R&D). Mergers and acquisitions have become a prominent strategy for prominent firms to expand their product lines.
In January 2023, Lupine Pharma Canada announced the launch of a novel treatment for postmenopausal vulvovaginal atrophy called Intrarosa® (prasterone vaginal ovules). Dyspareunia (painful intercourse), vaginal dryness, irritation, and itching are symptoms of menopause that are managed with this treatment. Additionally, Intrarosa®, which has a unique mode of action, responds quickly and has a safe profile, as it targets both estrogen and androgen deficiencies.

Accelerate Your Growth. Get Your Copy of this Premium Research Report Now!
Global Dyspareunia Treatment Market: Segmentation
Treatment Type
Drug

Estrogens, Miscellaneous Vaginal Agents
Selective Estrogen Receptor Modulators
Others

Drug-device Combination

Route of Administration
Distribution Channel
Retail Pharmacies
E-commerce
Others

Regions
North America
Latin America
Europe
Asia Pacific
Middle East & Africa

About Transparency Market Research
Transparency Market Research, a global market research company registered at Wilmington, Delaware, United States, provides custom research and consulting services. The firm scrutinizes factors shaping the dynamics of demand in various markets. The insights and perspectives on the markets evaluate opportunities in various segments. The opportunities in the segments based on source, application, demographics, sales channel, and end-use are analysed, which will determine growth in the markets over the next decade.
Our exclusive blend of quantitative forecasting and trends analysis provides forward-looking insights for thousands of decision-makers, made possible by experienced teams of Analysts, Researchers, and Consultants. The proprietary data sources and various tools & techniques we use always reflect the latest trends and information. With a broad research and analysis capability, Transparency Market Research employs rigorous primary and secondary research techniques in all of its business reports.
Contact:
Nikhil Sawlani
Transparency Market Research Inc.
CORPORATE HEADQUARTER DOWNTOWN,
1000 N. West Street,
Suite 1200, Wilmington, Delaware 19801 USA
Tel: +1-518-618-1030
USA – Canada Toll Free: 866-552-3453
Website: https://www.transparencymarketresearch.com
Blog: https://tmrblog.com
Email: sales@transparencymarketresearch.com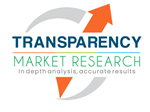 Powered by


EIN Presswire does not exercise editorial control over third-party content provided, uploaded, published, or distributed by users of EIN Presswire. We are a distributor, not a publisher, of 3rd party content. Such content may contain the views, opinions, statements, offers, and other material of the respective users, suppliers, participants, or authors.
Submit your press release